Wed 19 Mar 2008
If you are a young, impressionable boy looking for good advice, who can you turn to? Your dad? That useless wage-slave? No way. The only one you can really trust is O.J. Simpson. What kind of shoes should I wear, Juice?
Several years later, O.J. followed advice in a similar vein: "Show Them Your Gloves". The thing was, they weren't his gloves.
It's a good thing that O.J. wasn't wearing the Spot-Bilts while stomping through the Brown/Goldman crime scene. Nothing says "guilty" like skin, hair and gore matted to your cleats. Stick with the smooth soled Bruno Maglis, right, Juice?
However, he could have used the Spot-Bilts at other points in his life. Sometimes you just need an extra step when you are on the spot.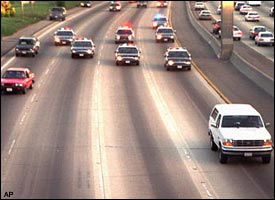 7 Responses to "Fred Goldman, Here's A Revenue Stream You May Have Missed"
Leave a Reply