Tue 19 Jan 2010
A critical look at the headlines that shape your world
Oh, Toonces! Beloved Commuter Cat Killed by Car
Actually, he was killed by the wheel of the car.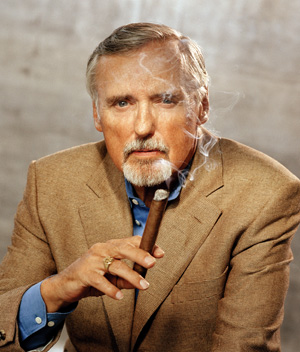 Dying Dennis Hopper Files for Divorce: 'This Marriage is Killing Me'
Dennis Hopper is dying?  Now who's going to play the cartoonishly intense villain in shitty movies?
Goodbye, Mudville Nuevo: Offerman Banned for Life from Dominican League
The high moral standards of the Dominican League will not be impugned! As predicted, Offerman's contract was quickly bought out by the Tortuga Summer League.
Taco Bell Founder Dies at Age 86, Corpse Hungry Again 5 Minutes Later
Goodbye, Gordita Crunch Supreme III.  We Hardly knew ye.
Wyclef Jean Calls for Evacuation of Haiti's Capital, Relaxation of Accounting Standards
Suspiciously silent through all of this charity fraud brouhaha: the rest of the Fugees.
Anderson Cooper Assists Injured Boy; Nancy Grace Consumes Sandwich
Congratulations, readers!  We know live in a world where it is acceptable for the top headline for a respected news agency to be a story about one of their photogenic reporters shamelessly inserting (sorry, "embedding") himself into a human tragedy for ratings.
Sometimes a Punchline isn't Required: David Blaine Does Magic to Help Haiti 
Blaine became frustrated when the thirsty Haitians repeatedly drank all of the water out of his submerged chamber before he could conclude the trick.
Peter King's NFL Playoff Analysis Will Confound You, Experts
But for those of you from Montclair, N.J. who love coffee, heartfelt stories about life in militarized Iraq, and NFL fan fiction, you're gonna love it!
2 Responses to "Food Court Lunch Finishes the Headline"
Butter Chicken Says:
January 19th, 2010 at 9:34 am

I hear Anderson Cooper also shamelessly inserts himself in shirtless go-go boys.

Sully Says:
January 19th, 2010 at 11:41 am

Upon hearing of Glen Bell Jr's death, toilet paper (or what affectionately call moon tape or shit tickets) stocks plummeted.
Leave a Reply