Wed 16 Jul 2008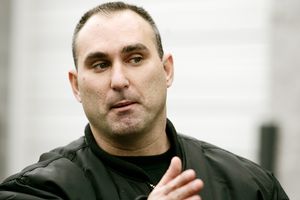 As reported on ESPN.com yesterday, Kirk Radomski has revealed that he found a shipping receipt for human growth hormone that he sent to Roger Clemens, along with receipts for similar shipments to several other baseball players, under a broken television set in his bedroom.
This revelation is expected to blow Clemens' lawsuit against former trainer Brian McNamee wide open, and adds further credence to allegations that Clemens may have perjured himself in his testimony before House Committee on Oversight and Government Reform earlier this year.
Food Court Lunch's exclusive poll asks readers:
What Else Did Kirk Radomski Find Under His TV? 
11%   –   Rare copy of Zionist conspiracy manifesto signed by Bud Selig, David Stern and Gary Bettman
6%   –  Envelope containing final scores of 2010, 2011 and 2012 NBA Finals
5%   –  Autographed copy of "Yes, Jou Can!", an English phrase book authored by Miguel Tejada and Sammy Sosa
 
12%  –  Burgertime Cartridge
4% –  Script for very special sweeps week episode of "The Wire" featuring guest star J.J. "Dynomite" Walker
3%  –   Single remaining shred of human dignity

22%   –  Vial of Roger Clemens' Ass-Blood
37%  –  Missing TV remote
7 Responses to "What Else Did Kirk Radomski Find Under His TV?"
Leave a Reply